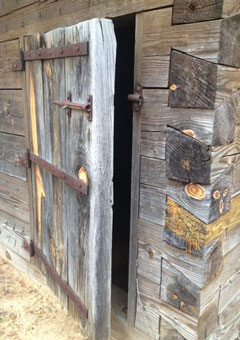 BLOCKHOUSE UPDATE - MAY 2013
The Blockhouse at Ft Mims will soon be a reality after several years of planning and working toward accomplishing this outstanding goal! What a wonderful addition this will be to the site. It will be the only structure of this type in this entire area. Visitors will be able to view an early 1800's-type construction of a log building with 1/2 dovetail notching. Each log fits snugly into place. A heavy door of wide pine boards guards the entrance. It is held in place with thick iron hinges hand-forged by a local blacksmith and donated to Ft Mims. The interior is not floored with boards but has a dirt floor. Along the inner walls there are long benches to stand on to reach the gunports. Through these small openings occupants could shoot at an approaching enemy. Accessed by ladder, the second floor is decked with rough-cut pine. Gunports are also numerous in these upper log walls to aid in defending the blockhouse from above. Looking up toward the roof, pine purlings hold the decking for a strong hip roof covered with cyprus shingles. It is amazing and an awesome structure to see.

This type of construction comes from the influence of immigrants from Finland who designed a building like this to be the place of 'the last stand' to hold off an attacking enemy. Having a cantilever--the top floor larger than the bottom floor--makes it almost impossible to enter the blockhouse if the door is securely fastened.

Fort Mims had a blockhouse under construction but it was not used during the Redstick Indian attack on August 30, 1813. Our completed structure will finish a job started 200 years ago. Surely those inhabitants of Ft Mims will be honored by this long-coming deed.

As the 'Sponsor a Log' Funding Campaign for the Blockhouse draws to a close, please let us know if you would like to be included. Only a few weeks are left to be a part of this! The names of those who have donated will be included on a plaque in front of the completed blockhouse. Remember that each donation may be given in memory of someone--an ancestor of Ft Mims, a friend or a family member.

Please do not hesitate if you wish to be included! Each log is $300. All or a portion of this may be given. Checks should be made out to FMRA and mailed to: FMRA, 64960 Slaughter Lane, Stockton, AL 36579. A letter of thanks, a certificate, and inclusion on the 'Donors list' on the website will include all who donate...plus having your name on the plaque on site.

'Like' Fort Mims on Facebook and follow our progress as the blockhouse re-construction begins!